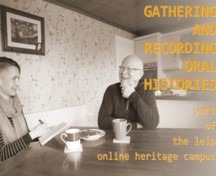 Please come and join us!
Fermanagh House,
Saturday 6th August 2022,
10am to 6pm
Share your stories and memories
On Saturday 6th August 2022 at Fermanagh House, Enniskillen, Lough Erne Landscape Partnership, in partnership with QUB, are gathering memories (oral histories/stories and photographs) to populate and produce a memory map of Fermanagh and it's rich heritage.
If you have a memory or story that you are willing to share, as part of the memory map project, please get in touch with Hazel Long, Heritage Project Manager – email: hazel.long@rspb.org.uk. Or perhaps you know of someone who is a great storyteller or has a wealth of historical knowledge which you think should be recorded for future generations?  If so, please get in touch.
We want to capture oral histories on the following themes:
Making a Living – for example, farming, fishing, industry
Domestic Life – for example, food, housing, hearth, family
Hands of Power – for example elites, war, imprisonment, government
Culture & Folklore – for example music, entertainment, traditions, place names
The Craic – for example, humorous stories, dialect etc.
Please do get in touch:
Share your story over a cuppa, one of our team will be on hand to record you, a friend, or group with an interesting tale to tell!
Photographs to support your story – we are providing a digitisation service, we can capture your supporting pics, that will again enrich the Memory Map!
For further information and to book your place on Saturday 6th August 2022, email: hazel.long@rspb.org.uk