'Connect Fermanagh' is a new befriending telephone service launched by the Fermanagh Trust to support those who are feeling lonely, afraid or vulnerable whatever their situation. The Trust is encouraging people to call them on 028 66 320 230 for befriending and / or help directing them to certain services.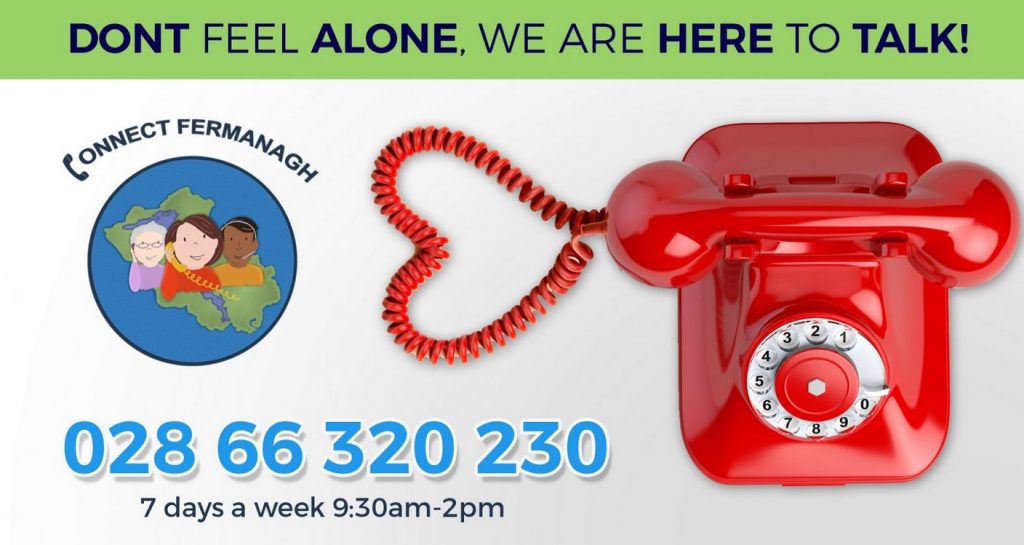 Fermanagh House, the social enterprise owned by local grant making charity the Fermanagh Trust is currently closed and staff are working from home. Therefore the Trust is redeploying it's staff and resources to manage this helpline 'Connect Fermanagh' providing a local response to local need and reaching out to individuals in need of a listening ear.
Director of the Fermanagh Trust Lauri McCusker said "With everything going on, it's a lot to take in. Now with constantly changing Coronavirus coverage, we are all adjusting to this new normal and the feelings that come with it. Many of us feel confused, or alone, or anxious or scared. It is heartening to see communities coming together and so many voluntary endeavours to help the vulnerable. Fermanagh Trust is up for that challenge and establishing this helpline 'Connect Fermanagh' is one of the ways we are playing our part and preventing loneliness in these most unsettling of times."
Initially this service is available from 9.30am -2pm 7 days per week. Answer machines outside these times. Please leave your name and number. They will make calls at designated times, agreed with individuals. The service will remain flexible and adaptable to meet emerging needs. The team aims to improve the social and emotional well-being of any person living in the Fermanagh area in need of a friendly, reassuring chat.
Fermanagh Trust are also looking for volunteers to help them with Connect Fermanagh. No doubt there are many out there who wish to help in some way but maybe cannot leave their home. This is one way to support those in the community who need it and also it helps the volunteer if they themselves feel lonely or isolated.
If you feel you may benefit from this service or if you know of anyone who would benefit do get in touch. Also contact if you would be interested in helping provide short term telephone support to individuals who are at risk of loneliness as a consequence of self-isolation tel: 028 66 320 230 / email: info@connectfermanagh.org. No need to feel alone, the Connect Fermanagh team are there to talk and help in any way they can. Their website for more information is www.connectfermanagh.org